TBarcode1D_Code25Industrial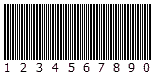 The component is used to create the Code 25 Industrial barcode symbol. It's defined in the pCode25Ind unit.
The Code 25 Industrial barcode symbology is also known as Industrial 2 of 5, 2 of 5 Industrial, 2/5 Industrial, 2 of 5 Standard, Standard 2 of 5, 2/5 Standard, Code 2/5, 2 of 5, C 2 of 5, Code25, Discrete 2 of 5, etc. It is a low-density variable-length numeric-only symbology that has been with us since the 1960s. It has been used in the photofinishing and warehouse sorting industries, as well as sequentially numbering airline tickets.
Technical Details:
Characters set: 0123456789
Length: Variable
Code type: Linear 1D Discrete
Properties:
Events:
(*): The Data property, OnInvalidDataLength and OnInvalidDataChar events are available only for the Delphi/C++ Builder 2009 or later.
---
Copyright © 2001-2023
Han-soft
Corporation. All rights reserved.